Residents of Alexandria say they love their town because it celebrates history while embracing the new world of technology and diversity. Alexandria is known as an "ecocity" — an ecologically healthy city that strives to preserve its historic character and ensure the sustainability of the community's present needs.


Situated on the western bank of the Potomac River seven miles south of Washington, D.C.,
Alexandria
has just over 150,000 residents spread over approximately 15.5 square miles. Since 2010, there's been a 1% population growth rate, and the largest employer is the United States Department of Defense. Alexandria is also home to the United States Patent and Trademark Office and the National Science Foundation.
Surrounded by exquisite Alexandria properties, Historic "
Old Town
" was founded in 1749 and has been home to the likes of George Washington and Robert E. Lee, weatherman Willard Scott, singer Mama Cass of the Mamas and the Papas, and singer/musician Dave Grohl of Nirvana and the Foo Fighters.
Dating back to 1669, Alexandria is one of the oldest European settlements in North America. This charming city is known for its collection of boutiques, theaters, restaurants, and antique shops that serve the community and draw visitors to many of its walking-friendly neighborhoods. Alexandria is the seventh-largest independent city in Virginia — meaning it's not county-affiliated — and has the highest median income of $142,000. With more than 150 private schools and numerous highly-rated public schools for the choosing, 78% of Alexandria residents have college degrees.


Given the popularity of Alexandria homes, the area is currently experiencing a seller's market with a
median home price
of $837,850 for a two-bedroom single-family home. There are numerous listings for condos and townhouses throughout the city's lush neighborhoods. Alexandria properties will be an excellent investment for your family, with home values trending upwards. Competition is only going to get stronger for Alexandria homes with the technology growth coming in. Amazon's new HQ2 headquarters, and all of the related businesses that will need to be close by to support them, along with the development of the technology industry working with the government contractors and trade organizations in the nation's capital promise to bring more job opportunities to the area.
Alexandria was named one of the Top 3 Best Small Cities in the U.S. in 2021, as
voted
by the Conde' Nast Traveler Readers' Choice Awards. Activities range from boat cruises and events at the waterfront to bustling King Street's "Great Streets" designation as a walkable mile of shopping, dining, and entertainment in its 200+ independent restaurants, boutiques, and intimate museums.
Convenient transportation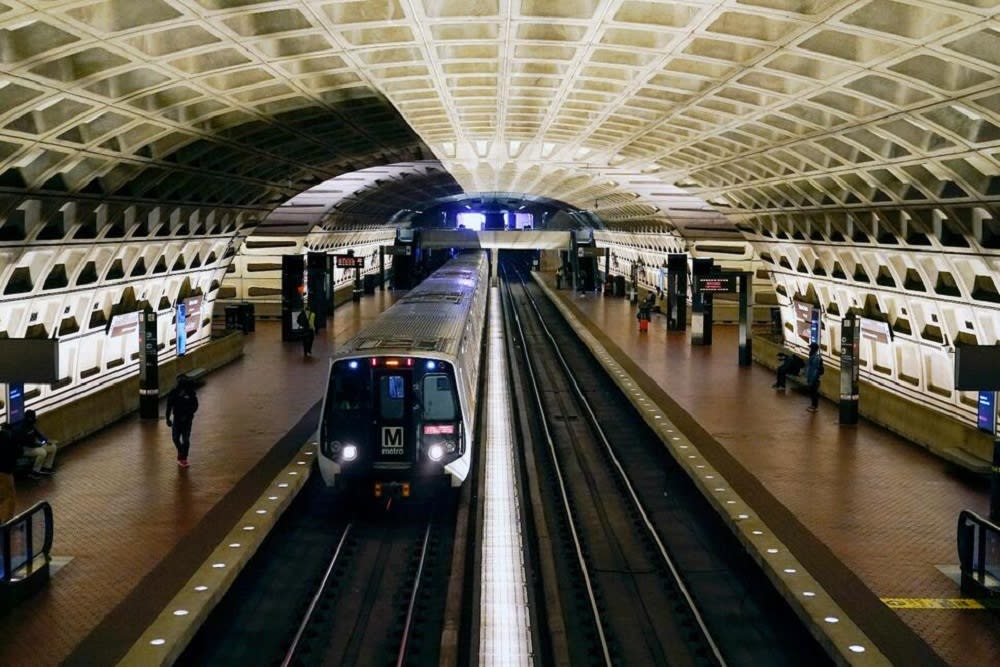 D.C. Metro Subway
Alexandria is part of Metropolitan Washington, D.C., and features a wide range of transportation services to and from the city. Bisected by State Route 7, also known as King Street, Alexandria has residents who work in Washington, D.C., and use the Capital Beltway and the many bridges that cross the Potomac River. There's also D.C. Metro subway system, with four Metro stations in Old Town, Braddock Road, Eisenhower Avenue, Van Dorn Street, and a fifth station coming soon to Potomac Yard. Residents who want to travel further by rail can access Amtrak intercity services in Old Town for their trips to New York City, Chicago, or points beyond.
A rich history
History is always just outside the front door of Alexandria properties, whether you're enjoying a stroll down King Street in Old Town, taking a water taxi, or sightseeing cruise up the Potomac to George Washington's Mount Vernon estate to explore the 18th-century ship Providence. You've probably heard the line "George Washington slept here." Now you can sleep, eat and walk the streets that our first President walked along with many other figures in history.


Alexandria homes are a short distance from Alexandria's restaurant scene, ranging from fine dining to comfort food and local farm-fresh fare to exotic international dishes. For those who enjoy preparing their own fine foods, Alexandria is home to the country's longest operating farmers' market, the Old Town Farmers' Market, held near City Hall each Saturday morning for 260 years.
Arts and entertainment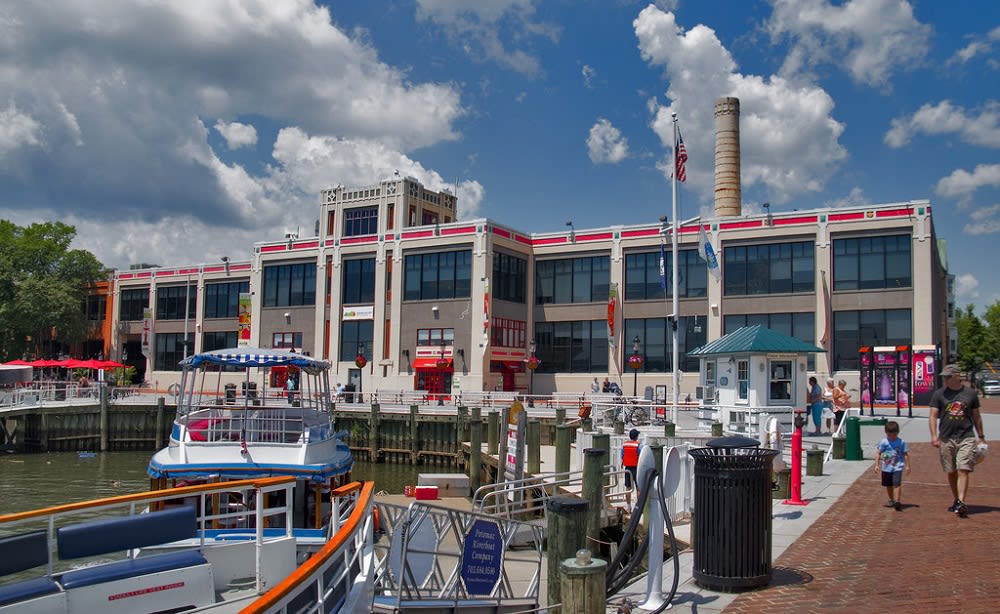 Among the city's vast array of entertainment venues is one with a unique history: The
Torpedo Factory
. This was an actual torpedo factory during World War II and is now home to many publicly accessible artist studios. The Torpedo Factory features late-night events and new exhibit openings with workshops and seven galleries featuring multi-media artists ranging from painting, jewelry, ceramics, and printing.
Outdoor activities
Alexandria is great for nature enthusiasts and features over 20 miles of hiking and biking trails and 900 acres of protected open space, including eight waterfront parks. The Mount Vernon trail stretches for 18 miles along the Potomac River, just across from national monuments and memorials in Washington, D.C. It's part of the 3,000-mile East Coast Greenway trail that runs from Maine to Florida. If you don't have a bike, you can rent one at one of the area's many bike and electric bike shops.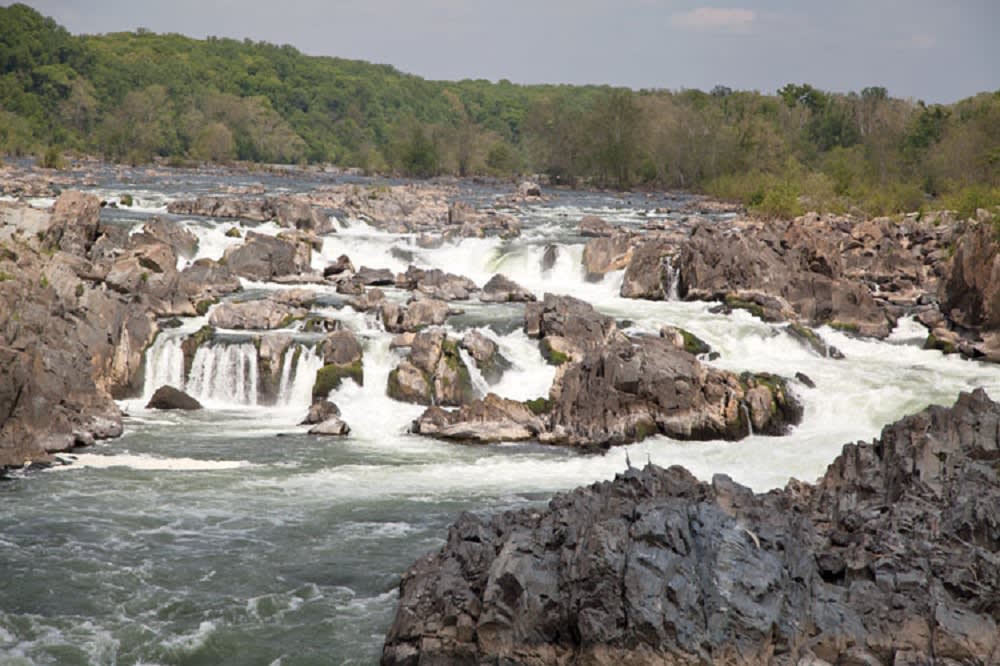 Potomac River
Alexandria is also an ideal city to experience on foot. Walking tours are available for architecture buffs to view historic buildings, casual strollers enjoying the waterfront, and art lovers (the Del Ray Mural stroll). History enthusiasts can tour the 35 acres of greenspace and surrounds at Fort Ward, constructed in 1861 to defend Washington, D.C. during the Civil War.


An Old Town Ghost and Graveyard Tour offers a guide dressed in 18th-century costume to lead you through the streets with a lantern to share the region's most famous ghost stories, folklore, and legends for the more daring Alexandria residents.


Trusted local agent
Jessica Richardson
can assist you in searching for Alexandria homes for sale. Reach out today to benefit from her years of experience and high level of customer service.