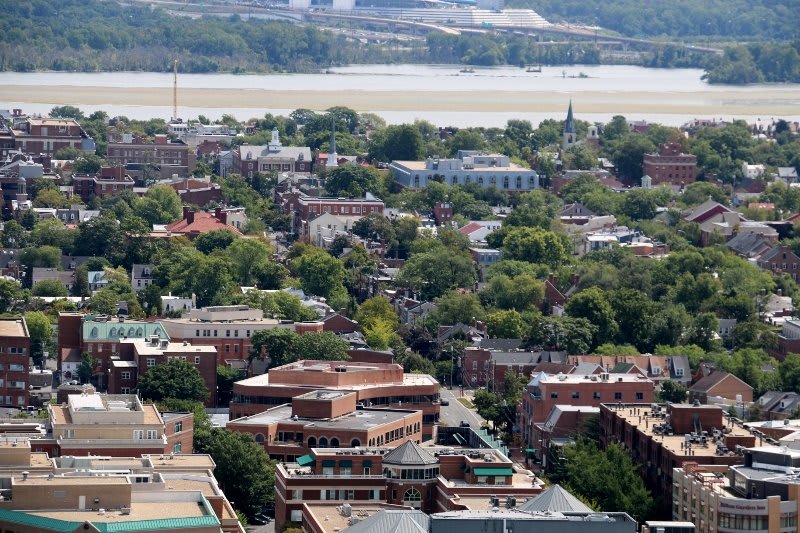 VIEW OF OLD TOWN FROM THE TOP OF THE MASONIC TEMPLE
Are you staying home for Spring Break? Has your extended family decided you're "it" for the Easter holiday. If you find yourself staying in Alexandria, we've included art, music, dancing, Easter egg hunting and history in our top 5 top things to do.
Stanley Clarke Band (America Jazz) will be playing at The Birchmere. Enjoy an evening listening to what many reviews claim as "finest jazz bass player ever" ~ high praise for the four-time Grammy award winning Stanley Clarke. Details: April 10 (Monday) at 7:30 $45.00 click here for more information and tickets. Address: 3701 Mount Vernon Ave, Alexandria.
La Tasca offers an authentic Flamenco Show twice a month and one happens to be during spring break. Enjoy the percussive steps, the hand clapping and the intricate hand movements while having delicious Spanish small plates. Details: April 12 (Wednesday) at 8:00pm. Dance is free, order off the menu. Click here for information. Address: 607 King Street, Alexandria.
Ephemera Exhibition at Torpedo Factory is the newest exhibition at the Torpedo Factory (Target Gallery). A Public Reception takes place on April 13 (Thursday) for twenty two works of art representing themes of nature, time, memory and brevity. The event takes place between 6:00-8:00 pm and local artist Pam Rogers will jury the exhibition at 7:00pm
Take your children to the Lee-Fendall House Museum for their 18th Annual Easter Egg Hunt. Only children ages 12 and under can participate in the Easter egg hunt but everyone can enjoy the other activities planned such as:
Photos with the Easter Bunny
EVERY participating child will receive an Easter Egg!
Children (age 1-12): $12.00 general public/ $10.00 Friends of Lee-Fendall House. Adults (age 13+): $5.00 general public/ FREE Friends of Lee-Fendall House (Family Membership and above), Infants under 1 year of age are admitted free. For additional details, click here.
If you're a fan of PBS's Mercy Street, take the 75 minute Mercy Street Discovery Tour on April 9 (Sunday). Visitors will learn the historic facts regarding Civil War medicine, nursing, the actual Green family portrayed on the show, and how the Union's occupation affected the of the city. The tour starts at the Alexandria Visitor Center (221 King Street) and ends at Christ Church (Cameron/Washington Streets). Bring Fido - dogs are welcome. Cost is $12 per person.
What's your favorite thing to do on a Staycation in Alexandria?