Spring is fully here, and summer styles are fast approaching. This year we have seen a lot of revival on the fashion front. Suede, florals, and a wide-leg pant have all revisited us from a once bygone era. What else does the world of design have in store for us? This year in home design is no different when it comes to the revival of textures, hues, and colors from a previous era. 2022 is all about bold colors, moody hues, contrasting patterns, multi-functional spaces, and reviving grandma's old furniture.


Are you searching for houses in Alexandria and hoping to incorporate some of the hottest spring trends? Here are eight design trends you may want to integrate into your Alexandria real estate. Decorating is all about "more" this year.
1. Maximalism
Gone are the days of the minimalist white walls and non-functional objects spaced throughout the room. In 2022 more is more. Think walls lined with wallpaper in funky colors filled with photo frames and spaces littered with well-placed furniture and knick-knacks. Clutter isn't necessarily the name of the game, but mixing and matching all things color, hue, and pattern may be according to
Southern Living
.
2. Dark kitchens
The light, bright, and airy style of the last few years is finally making its way out. Personally, I think we might be better off for it. Who has the time to keep a white kitchen clean, anyway?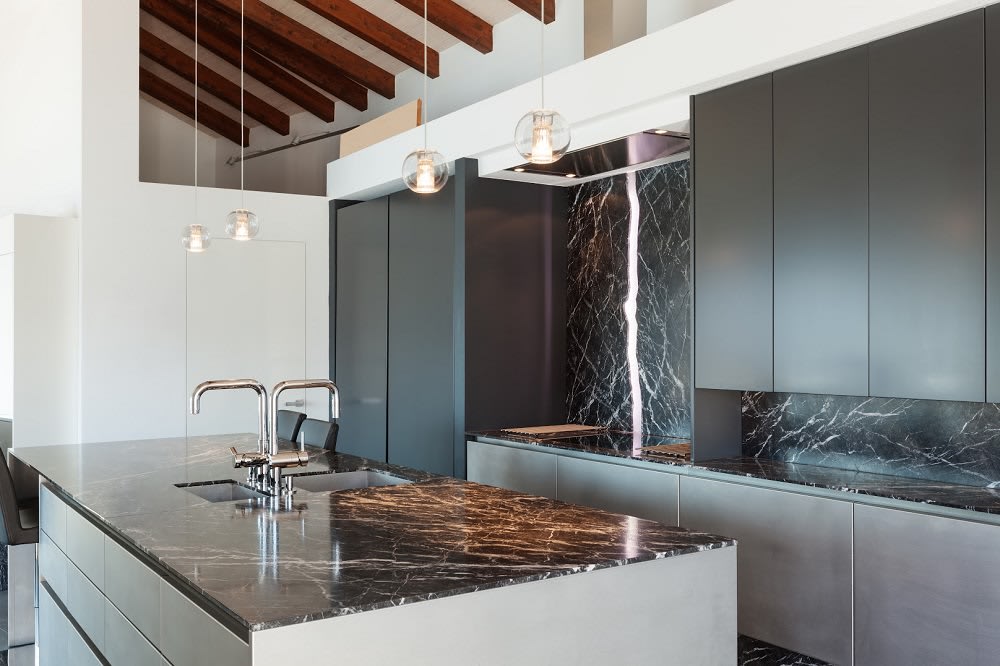 The good news is that a change is on the way throughout 2022. Dark kitchens are in. Replace those all-white cabinets and finishings with something a little moodier. Dark cabinets, dark hardwood floors, and slate-colored appliances are bringing a little more intensity into the kitchen this spring. If you do decide to go the dark kitchen route, make sure you lighten things up with bright or light-colored kitchen towels, rugs, or other decor that breaks up all the dark and brings in a bit of springtime color.
3. Vintage Revival
For many years now, vintage everything has been making a comeback. We want our decor to incorporate a sort of nostalgia for a bygone era. Mixing vintage pieces and finishes with more modern colors and textures is the norm. Wallpaper is also making a comeback, and more and more home decorators and interior design aficionados are opting for bolder, brighter, and quirkier wallpaper.


If you are looking for houses in Alexandria, you are likely familiar with the typical row and federalist-style homes mixed with other elements of colonial architecture in Alexandria real estate. Why not incorporate some gems from those eras into your interior as well? The local antique shops are likely flooded with others hoping to do the same.
4. Bold colors, moody hues, and shades of brown
If you were an early adopter of the all-white everything design trends of the last few years, feel free to leave simplicity behind in favor of color this year. Accent walls and entire rooms of color are in. Seventies-era boldness mixed with browns in every shade will make your space come alive in 2022.
5. Contrasting textures & patterns
Think Grandma's quirky cottage home for inspiration this season. Not only are bold, moody hues in once again, mixing and matching those colors and patterns is encouraged. More is more this year when it comes to all things color, pattern, wallpaper, and contrasting textures.
6. Inspiration from nature
In the last few years, plants of all kinds have made their way from outdoor landscaping indoors. Perhaps it was the pandemic that had something to do with our obsession with nature inside the home. Plants of all kinds are purifying the indoor air, adding some color, and giving us the feeling of a stroll in nature.
Not only are plants becoming more popular as indoor decor, but
Vogue
states that indoor decor inspired by nature is also a staple for 2022. Brown hues, forest green accents, and the odd brand of yellow-brown of the grasslands in the West are all making their way indoors. If you are looking to update your decor, look outside for inspiration!
7. Multi-use spaces
Though the last ten years have been punctuated by open-floor plans for everything from office spaces to our homes, the obsession with open spaces is waning. In 2022, we want a bit more privacy than a fully open floor plan will allow. You may see more small spaces suitable for multi-use making their way into the fold.


The pandemic years saw us spending more time inside the home. In addition, many people were fortunate enough to take their work home with them as well, meaning more people had use for an office space. Makeshift offices have become fully functional multi-use spaces suitable for your 2:00 p.m. Zoom call then, with a few tweaks, a formal dinner at the dining room table at 7:00 p.m. This is especially popular with smaller houses in Alexandria that don't have multiple rooms that can be used for offices, guest rooms, or other optional purposes.
8. Tech
It seems that tech is the single most important feature for homebuyers today. We use our phones for everything, so it makes sense that we would want some of these life-enhancing technology features in our home as well. The clean lines and sleek finishes of appliances fitted with tech features, home assistants like Alexa and Google Home, and smart TVs juxtaposed with vintage fittings and furniture give nuance to your home.
Looking for Alexandria real estate?
Are you searching for houses in Alexandria and hoping for expert advice? Look no further than the team at
Jessica Richardson Realty
. Jessica is a Northern Virginia native with unmatched experience assisting buyers and sellers in the Alexandria real estate market.
Contact Jessica Richardson
today for professional assistance in buying or selling a home.